High academic standards
Whichever subject you choose to study in Denmark you can expect outstanding academic standards. Several institutions rank among Europe's finest and combine traditional lectures with student-centred teaching methods that will help you turn new learning into innovative solutions
Innovative teaching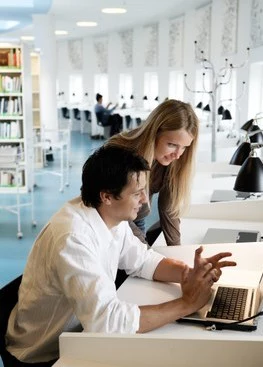 Higher education in Denmark combines traditional lectures and tutorials with teaching that wiil help you develop strong problem solving skills. Open debate and problem-based learning methods will encourage you to express yourself, to pursue experiment and to work collaboratively with others.
This involves project work - on your own and with fellow students. These projects which often treat real-life challenges and draw on your ability to use your initiative and think freely. Oral and written exams ensure learning outcomes of high international quality.
The learning environment in Denmark is friendly and relaxed with students and teachers debating openly during class and lectures. As you team with other students on collaborative projects you will also be introduced to new friends from around the world.
Read more about the Danish way of teaching
Study in Denmark and gain:
- An international profile
- Excellent collaborative and innovative skills
- A strong foundation for your future career
High academic standards
Whichever subject you choose to study in Denmark, you can expect high academic standards that are recognised worldwide. Danish university tutors are part-time researchers and often have experience as working professionals. This ensures an up-to-the-minute academic knowledge and a valuable practical perspective in their teaching.
Furthermore, Danish institutions of higher education often collaborate with business, industry and research institutes, ensuring a dynamic learning environment where you can learn directly from industry experts. Many programmes also include credit-earning internships, offering students the opportunity to gain valuable work experience.
Danish universities, colleges and academies are state-of-the-art and offer students free access to computers, libraries and Wi-Fi on campus.