Adriana from Portugal, Computer Science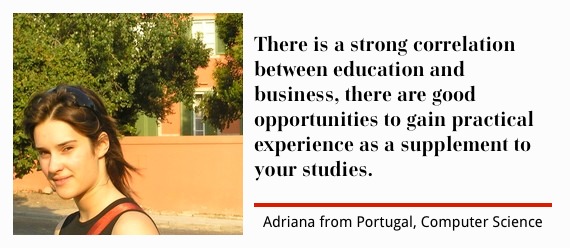 Born: 6th of November 1985
Field of study and education institution: Computing Science. Engineering College of Aarhus
Nationality: Portuguese
Why did you choose to study in Denmark?
I chose Denmark because I knew it is a country with a high expertise in Computing Science and where people have a high quality of life. I also would like to start my professional life in a different country than Portugal and I was informed that Denmark was a good choice for various reasons. Finally, I knew I could make my MSc thesis in a much more organised way and learning much more practical stuff if I were in Denmark than in Portugal.
What do you like the most about studying in Denmark?
Things are well organized here. There is a strong correlation between education and business, so there are good opportunities to gain practical experience as a supplement to your studies and your theoretical foundation.
What don't you like about studying in Denmark?
In my home country I could discuss my work with my colleagues. I am doing a Master thesis alone and I hardly have any opportunities to chat about my work or get help from other people.
What do you like the most about Denmark and the Danes?
I like the fact that people are not forced to work more than they are supposed to.
In general, people are also civilised, so it was very uncommon to feel unsafe here.
What don't you like about Denmark and the Danes?
I think Danes are very cold people. Of course I am comparing them to Portuguese people so this opinion can easily change from person to person. About Denmark, I was disappointed with the simple and similar monuments they have. I also didn't like the high prices on something as simple as bread! This is just one example in thousands!
Tell us about your best experience in Denmark
My best experience in Denmark was probably my part-time job, because it was the first time I was working in my life. I was very well treated and I was able to enrich myself professionally and improve my knowledge and develop my personality.
Do you have some advice on Danish student life in general?
Be ready to work and success will appear! You will not have the opportunity to blame someone else for your failure besides yourself. Things really work as they should here!