Ready for common meals, city walks and language cafes?
Danish students volunteer to make their international co-students feel welcome. This is the impression you get after a quick telephone inquiry at schools across Denmark. It is also clear that many foreign students participate in this vital work themselves.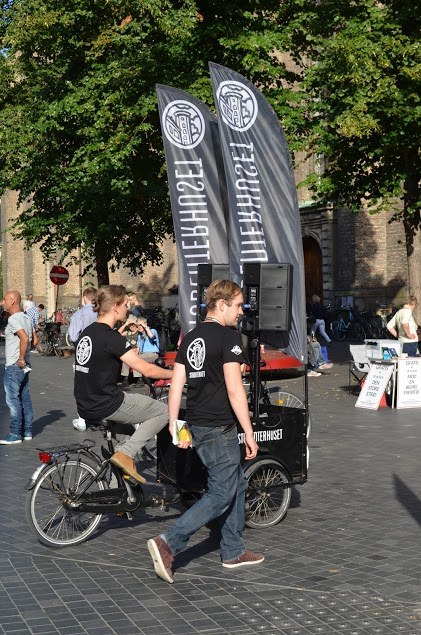 In Copenhagen – a mere ten steps from the famous Round Tower – the sun is shining on the cafe tables outside the Student House. Every day, huge amounts of low-priced coffee is served for hundreds of students, either talking in groups or absorbed in individual studies. International coordinator Stine Agerbæk barely knows where to begin when we ask her what the Student House has to offer international students:
"We arrange city walks with guided tours around the city. We run a language cafe where we speak Danish, English, Spanish, Chinese and other languages. Wednesdays we host our civic restaurant where you can have a meal for only DKK 25 kroner and we often have presentations from unions, social workers, experienced international students and others who can help with practical stuff related to accommodation, employment and social life."
Forty nationalities working together
At the Student House, there is a real good chance of running into somebody who speaks your language or knows your home country. About 40 different nationalities work together to create a great student life for everyone here.
"We do everything from celebrating Danish Christmas, Irish Saint Patrick's Day or other high festivals to booking a band to play West-African music. All our activities and events rely on volunteers contributing with ideas and man-hours. This kind of grassroots work is quite common in Denmark. Our student volunteers from all over the world are a major resource for us. They help create an international environment with a fun and dynamic vibe," says Stine Agerbæk.
Awesome international house
Student life is also a real melting pot other places in Denmark, for example at Roskilde University where international students participate actively in political student representation and social life at the school. This is what we learn from Kristian Bruun, who is chairman of the student council, which conducts its meeting in English because one of the board members is from Argentina.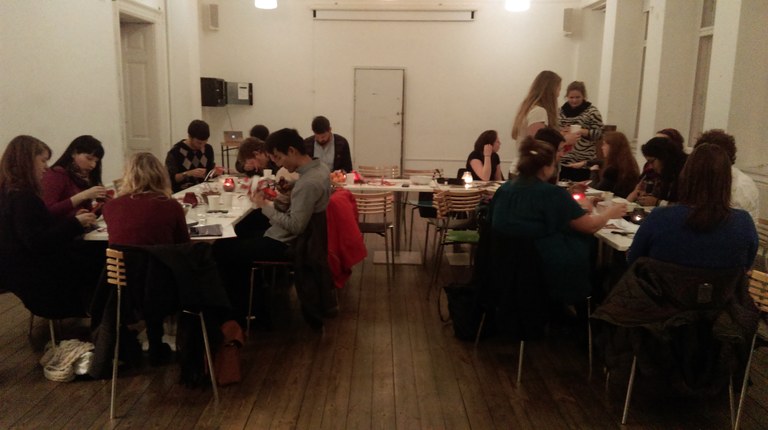 "Every time the national parliament or the university proposes a new reform, we say to them: Do not forget the international students! At Roskilde University, we have this awesome international house, which serves as a place to meet up for organizational or social purposes. We have had a great deal of success with our cooking sessions where we prepare Danish food together," says Kristian Bruun who studies global relations with co-students from all over the world.
Danish friends
In another part of the country, the university college VIA UC trains engineers, designers, teachers, medical nurses, etc. The headquarters are located in Aarhus with more than 40 study programmes spread out across the entire central Jutland area.
"We strive to integrate our approximately 3,500 international students in the study environment and make sure they gain Danish friends. It is a great privilege to have students from abroad, because they strengthen our international environment and give us a lot of new input," explains Palle Würtz, who studies social work and is chairman of the student council at VIA UC.
A visit from the rest of the world
Yasmin Davali is chair of The Joint Council of Danish Student Organizations, which covers the whole country.
"Danish educational institutions prioritize international students more than ever. It is really positive when Danish students make an effort to give their fellow students from abroad a warm welcome. Today, education, research and development take place across national borders, so if we can have the rest of the world drop by for a visit here, that is just great," she says.
Find Danish student councils and student houses

You can find student houses in the four biggest Danish cities:
Aarhus: www.studenterhusaarhus.dk
Odense: www.studenterhus.dk
København: www.studenterhuset.com
Aalborg: www.studenterhuset.dk
There are also student houses at many other educational institutions, for example at Roskilde University: www.studenterhusetruc.dk
All educational institutions have a student council, a representative body elected by the students themselves, to look after their interests. For further information, please contact the relevant school.