"One of the best countries in the world"
Karen Janani Salazar Lopez did a lot of research, before she decided to study Computer Science at the IT University of Copenhagen.
"As students, we see  the latest in technology here, and I appreciate that."
Karen Janani Salazar Lopez worked thoroughly, when she did her research to find a university to study Computer Science.
She has a bachelor's degree in Computer Science and engineering from the University of Guadalajara in Mexico. After working for two years, she decided to start looking at the opportunities to do a master degree in Computer Science.
Inspiration from brother
"My brother is my role model and mentor. He studied in Australia, and now he works there," Karen says.
She wanted to do as her brother. She looked at the best countries to live in, at gender equality, wages, life quality, safety for citizens, the weather and many other types of information about the countries.
As the options narrowed down, she ended up in Denmark. She could choose between studying Computer Science at Aalborg University or the IT University of Copenhagen.
 "I feel safe here. Even when I take the Metro train, or when I bike through the city in the middle of the night, I feel safe."
"But it doesn't say anywhere, how cold the wind gets here, though," she laughs.
IT University of Copenhagen gives scholarships to 3-5 students every year.
"I was super lucky to get one of those," she says.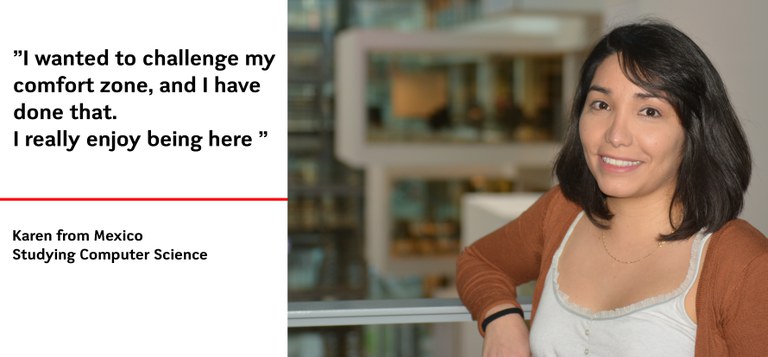 Teacher assistants and group work
Now she is doing her 1st semester in Computer Science.
Group work and teacher assistants make the work easier. The university employs TA's, teacher assistants. They are students, who help other students with the curriculum, assignments and other tasks.
"You feel more comfortable talking to other students about issues than asking the professor," Karen says.
The students have to prepare well for class, as they often work in groups.
In her group, six international students work together. One from Iceland, two from Albania, one from Hungary, one Dane and one from Mexico.
 "There is a lot of self-teaching. I have not been used to that in Mexico, but I really enjoy working in groups," Karen says.
Exams pending
She is a bit nervous about the exams, though.
"In Mexico, we have hand-ins, and they count as part of the exam. Here, we have just one exam, and I am a bit worried about my results. I want to do well," she says.
"I wanted to challenge my comfort zone, and I have done that. I really enjoy being here," she says.
Karen considers staying in Europe after graduation.
"I will decide after I have tried living here in winter," she laughs.